St. Vincent DePaul serving Feb 2, 2020
The congregation at Emmanuel and the Middlesex Area Cluster Ministry Network believes that supporting each other through community involvement is the most important way to undertake the work of Christ.   Some of the community programs that we participate in are:
Killingworth Helping Hands, the Connecticut Food Bank, the Amazing Grace Food Pantry, St. Vincent dePaul's Place, Bishop's Fund for Children, Heifer International, Lulac Head Start, New Horizons Women's Shelter, Haddam/Killingworth Youth and Family Services, Hartford Boys and Girls Club, Danielle Care For Chairs, Lions Club Recycle for Sight, Matthew 25Ministries, Prayer Shawl ministry and the South Dakota Lakota reservations.
**  Every first and second Sundays we collect Peanut Butter and Baby Food for the Amazing Grace Food Pantry in Middletown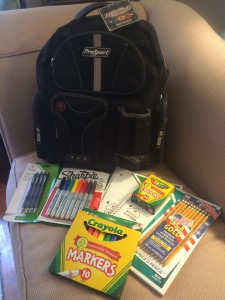 Emmanuel church participates in the Haddam Killingworth Youth and Family Services Backpack Program.  The church donates backpacks filled with supplies and money to purchase backpacks/supplies for families in need in the community.