Our Services
Welcome to Emmanuel Church! We welcome all to worship God in our humble house in the Wilderness.   Please join us every Sunday at 10:00 AM
You are cordially invited to an afternoon of wonderful music…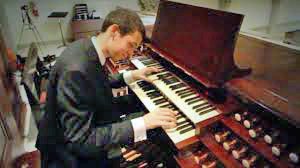 " THE FOUR SEASONS PLUS" SPRING CONCERT"
Dedicated to the memory of Rick Albrecht
Daniel Ficarri, Organ
 Benjamin Keating, Trumpet
Music that will lift your spirits!  
Sunday Afternoon,  April 28, 2019  5 PM
At Emmanuel Church, "The Little Church in the Wilderness"
50 Emmanuel Church Road, Killingworth, CT 06419 
Admission $ 15, Seniors and Students $10, Children free
Reception following concert
For information or direction call 860-663-1109 or go to www.churchinthewilderness.org
Dear Friends of "The Four Seasons Plus" Concerts Series:
Our Summer Concert on June 11, 2017 was a very special event-
our 70th concert. I hope you were able to join us and enjoyed our celebration.
As many of you know, we started the series on May 11, 2002
with a wonderful performance of "Harpsichord and Humor"
by Linda Skernick and Yves Feder. It was a memorable occasion!
Since then we have had musicians from around the world, both organists
and other musicians, performing in our 'Little Church in the Wilderness" for our loyal audience.