Welcome to Emmanuel Church – we welcome all to worship God in our humble house in the Wilderness.
Bishop Ian T. Douglas  is scheduled for an Episcopal visit on Sunday, March 8th 2015 at  Emmanuel Church,  "the Little Church in the Wilderness".
The Congregation is inviting anyone of faith and good will  who would like to participate  and celebrate with us.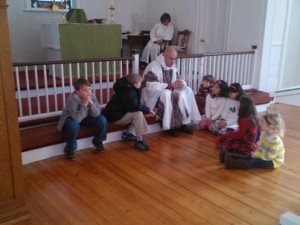 Please join us every Sunday at 10:00 AM
Wherever you are from…whatever your education, job status, age, marital status, physical challenge, politics, race, gender…wherever you are on your spiritual path…you are welcome at Emmanuel Church, where we hope you will find a community of faith to support and encourage you. We are an Episcopal church, Anglican in heritage, centered on the life of prayer and sacraments, believing in the real presence of God in our lives. We worship God through a traditional liturgy, celebrated with open minds and generous hearts. Though we are made up of many different sorts of people, we are unified by our faith in Jesus Christ. We are one people believing in one Lord, one faith and one baptism.
We aspire to be a Christ-centered sanctuary where we can find inspiration, communion and purpose in our worship of God and our service to others. Our mission is to build up a strong, worshiping community of caring people reaching out to others in the name of Christ.